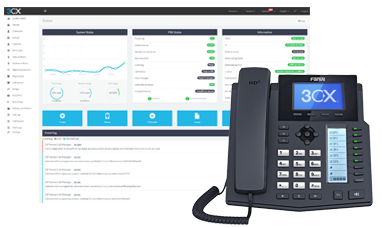 A reliable and affordable phone system for your business.
Every business utilizes telephones but for small and medium sized businesses, selecting an office phone system is even more important. Your phone system is the lifeline that connects your business with employees, vendors, and, most importantly, customers.  A complete PBX phone system provides an ultra-reliable phone system that is supported by our highly-trained Orlando based IT staff.
PBX phone systems have a wide-range of capabilities that your business needs to be competitive in today's market. Plus, moving to a Hybrid phone PBX system gives you the choice to choose the setup that best suits your needs whether in-house or int he cloud. This can lower your communication costs as much as 40-80% over traditional phone systems.
PBX phone systems, or Private Branch Exchange phone systems, handle the same functions as old-fashioned telephone operators who spoke with callers and manually connected them with employees plus so much more such as call waiting, auto-attendants, music/message on hold functions, and voicemail. If your team is highly mobile, the ability to carry your extension with you makes the system extremely versatile when traveling or working from home.
With PBX phone systems you can pay for only what you need, easily add new features and upgrades without significant cost, and get a sophisticated phone system without an enterprise-sized budget.
Some of the benefits of PBX phone systems include:
Easy and painless implementation
Professional quality and reliability
An affordable, state-of-the-art phone system
An intuitive interface for easy installation and adds, moves, and changes
Ability to easily expand the phone system as business needs change
A phone and communications solution in a single appliance that's low-cost, reliable, full-featured, and simple to deploy, administer, and maintain
Wide variety of features
If your phone system is in need of an upgrade, contact Synapse360IT today to get your free phone system assessment – 407.641.2122